10 Things to know about Sewing for Children
Di Roberta Ottolenghi
All Robedellarobi's advice on children's clothing. Let's find out more.
WHERE DO YOU BEGIN TO DESIGN CHILD MODELS?
To draw a model, I start from an idea, which becomes a sketch which then turns into a prototype, usually in size 4 years, according to the standard measurements of a size chart that I created. From the prototype model, I then start developing the lower and upper sizes according to the rules of the size development method that I learned. My training as an architect, always in contact with computer technical drawings, facilitated me in designing and concretizing the design of the paper patterns with CAD.
IF YOU WANT TO RE-ADJUST THE MEASUREMENTS OF A SEWING MODEL FROM A SIZE OF 2 YEARS TO ONE OF 5 HOW DO YOU DO IT?
To best resize a model, you must enlarge it always taking into account the right proportions. The drawing cannot be enlarged with the copier as the relationships between width and length would be damaged. Knowing the difference between the chest measurements and the desired length, the increase in the size of the pattern can be divided into specific points, without deforming the garment.
DO YOU RECOMMEND SOME PORTAL / MAGAZINE FROM WHICH TO GET INSPIRATION OR WHERE TO FIND BEAUTIFUL MODELS?
I have always been fascinated by the taste of French and Japanese models. I have a large collection of Japanese books which over time I purchased mainly on Etsy. Among these, the work of Yoshiko Tsukiori stands out, who has published numerous model books, both for women and children, and fortunately, many have been translated into French. My first source of French inspiration, however, was Astrid Le Provost who wrote many French model books.
HAVE YOU EVER SEWED BABY BOOTS? IF YES, WHAT FABRICS DO YOU RECOMMEND?
I sewed baby booties when my kids were small. I have always used, as I do now for my clothes, cotton and natural linens, sometimes even a little rough and consistent.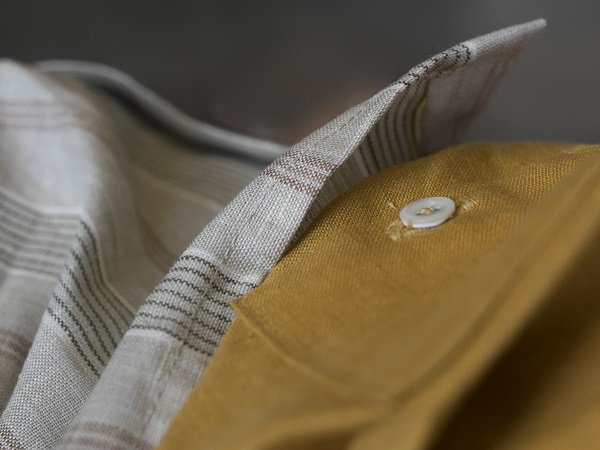 DO YOU ALSO MAKE ACCESSORIES FOR CHILDREN? WHAT'S YOUR FAVORITE?
I like making pencil cases and small fabric games. Again, my children were my inspiration and also my testers. Certainly, the accessory that I still prefer to sew today is the track for fabric cars, for travel.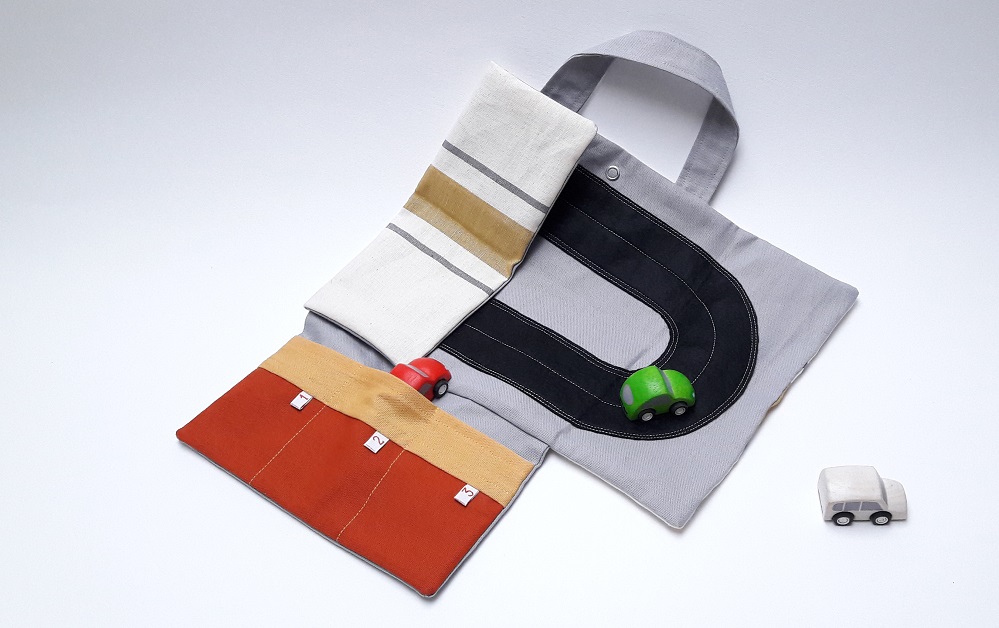 HAVE YOU EVER HAPPENED TO REUSE CHILDREN'S CLOTHES TO CREATE SOME ACCESSORIES?
Honestly, it never happened to me, but a nice reuse project was born, instead, from the request of one of my clients who sent me some shirts of her husband, which were no longer used because they were slightly worn, to transform them into outfits for her baby. A truly sustainable clothing request!
HAVE YOU EVER MADE A SLEEPING BAG FOR BABIES?
I never made a sleeping bag perhaps because, as a mother, I never felt the need for my children.
WHAT COURSES FOR ADULTS DO YOU OFFER TO SEW CHILDREN CLOTHING?
I offer courses, at the fair or in Treviso, where I live, for adults who want to learn how to sew a small garment for children. I usually propose summer garments such as sleeveless girl tops or short shorts. Often the participants never sewed anything and therefore the sewing projects we do together are very simple to perform in a short time and easily.
WHAT SEWING COURSES DO YOU OFFER FOR CHILDREN?
For children, I organize courses in Treviso to sew together small accessories or summer dresses that are easy to make. It is the mothers who contact me, of course, and we decide together the object to be made according to the interests of the children. Almost tailor-made courses, usually for couples of friends, budding little seamstresses. We spend just over two hours sewing and having a snack together.

DO YOU ALSO OFFER COURSE TO DESIGN MODELS FOR CHILDREN'S CLOTHING?
I don't offer courses to draw models, it would be a bit complicated. Better to take a course organized by a modeling school, as I did.
Share this article
Related Articles
---
A DIY fashion accessory to show off on spring days

Continue Reading

Let's make a nice pacifier holder together. What is needed? Needle and thread!

Continue Reading

Here's how to decorate a T-shirt and make it colorful and nice, starting from fabric scraps!

Continue Reading